Berkeley Metallic Luster Black Inlay Art Guitar 39" w/4 band EQ E-Tunner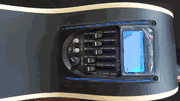 Product Description
Berkeley Metallic Luster Black Inlay Art Guitar 39" w/4 band EQ E-Tunner
Berkeley just come out with this special Metallic Luster Black Inlay Art Guitar 39" w/4 band EQ E-Tunner
i don't know how you feel about this crazy color. i been play guitar over 50 years this is first time try to using this colors maybe you are not agrees with. but that Pickup EQ and Electric Pitch tuner is big help.
and that fingerboard have full engrave Inlay Art. no one in your area have this same guitar. if someone have your guitar not return to you. you can easy find out, because no one have same guitar in your town.
DO NOT DUPLICATE OR COPY! Template Made By: © InkFrog.com
Auction Templates, Logos, Store fronts and more!